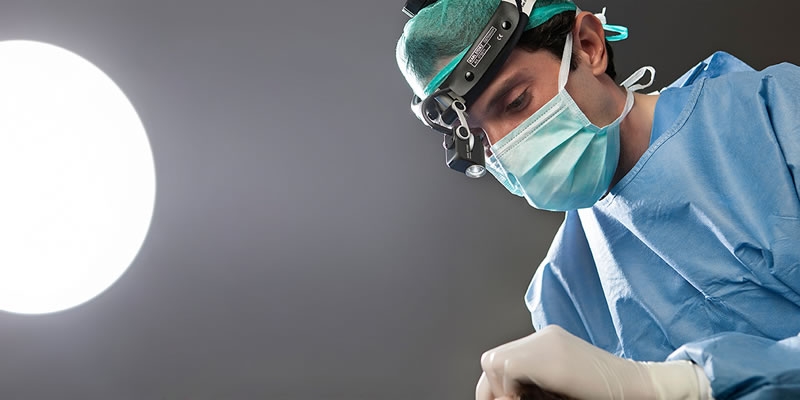 Dr. Pablo Casas is Doctor cum laude in Medicine and Surgery, obtaining his degree in the Faculty of Medicine of Complutense University of Madrid.
After successfully passing the MIR exam, he was able to choose the best Otorhinolaryngology Service in the country to perform his specialty, training for the next 4 years at the Otorhinolaryngology and Head and Neck Surgery Department of La Paz University Hospital in Madrid. During these years, Dr. Casas obtained enormous training in all the medical and surgical areas of the specialty, including cervical cancer surgery, nasosinusal and skull-based endoscopic surgery, surgery of the thyroid gland, otologic surgery and facial plastic and reconstructive surgery.
His interest in the field of Facial Plastic and Aesthetic Surgery took him to the United States, where he completed his training at the Memorial Sloan Kettering Center in New York and the University of Illinois at Chicago, where he also trained as a specialist in Facial Plastic and Reconstructive Surgery alongside some of the best plastic surgeons in the world, such as Dr. Andrew Jacono and Dr. Dean Toriumi. During this time, he obtained training in all plastic, reconstructive and aesthetic surgeries of the face, including rhinoplasty, otoplasty, blepharoplasty, face lift and facial rejuvenation surgery.
Dr. Casas holds an International Certification by the International Board for Certification in Facial Plastic and Reconstructive Surgery, the highest level certification in this field. This distinction is held by very few surgeons in Europe.
Since 2007, Dr. Casas has developed his medical and surgical practice in León (Spain).
Currently, he has an exclusively private practice focused 100% on rhinoplasty surgery, which he performes daily. Recently, Dr. Casas has received the award for "Best Rhinoplasty Surgeon in Spain", given by the Minister of Health, during the awards ceremony "To your health 2018" at the headquarters of the newspaper La Razón  along with some of the best doctors and surgeons in Spain.
This award has been given to him due to his great contribution in the world of rhinoplasty, since he has been a pioneer in Spain in introducing ultrasonic instruments in this surgery.
Dr. Casas has been performing rhinoplasty surgery for more than 15 years. At the present time, he is the surgeon who has performed more surgeries using the ultrasonic rhinoplasty technique in Spain. This technique is the most advanced for rhinoplasty surgery.
This method allows to reshape the nasal bones without breaking them, in a less traumatic way, since it does not damage the soft tissues or the blood vessels that cover the bone, reducing the patient's swelling and bruising. It also allows a much greater precision in all the work on the bone that is performed in this surgery. It is a technique that provides numerous advantages both for the patient, in terms of recovery and the postoperative result, and also for the surgeon, in what refers to the precision of his technique.
At present, Dr. Pablo Casas continues to attend National and International Congresses as a teacher, and frequently publishes scientific articles in national and international journals of his specialty. Dr. Casas frequently visits surgeons of international prestige, to continue training and learning the latest techniques.
His experience and training as an Otolaryngologist and Facial Plastic Surgeon, provide a clear vision and perspective of the face as a whole. His extensive training, his innate abilities, his passion for perfection and his desire for excellence, combine with the most advanced methods and surgical techniques, make him capable of obtaining natural results at the highest level.
Dr. Casas usually receives patients who come from all over Spain and from abroad, as he is one of the few surgeons in Spain, with Doble Board Certification in Otolaryngology and Facial Plastic Surgery.
If you need more information about RHINOPLASTY surgery, you can contact us and request a first consultation at +34987253363. During this first consultation Dr. Casas will inform you extensively about the surgery of ULTRASONIC RHINOPLASTY. Dr. Pablo Casas is a true specialist, and is recognized for his dedication to his patients, for his good manners and for his good surgical results.